UPDATE #1 (5/25/22)
ਵਾਹਿਗੁਰੂ ਜੀ ਕਾ ਖ਼ਾਲਸਾ ਵਾਹਿਗੁਰੂ ਜੀ ਕੀ ਫ਼ਤਹਿ॥
Camp is just a little more than a month away, and we are busy preparing to ensure a week of both fun and learning among sangat! Please look out for emails in the next few weeks from us that should hopefully cover any/all questions. In the meantime, here are a few important notes to share with you.
1. If your child is flying to camp, please book their ticket to arrive at Nashville BNA airport by 12 noon on Saturday, June 25. Our estimated pickup time for drivers is 11 AM as of now, but that may change. All return flights should be booked no earlier than 3pm on Saturday, July 2.
2. Camp will look different this year due to COVID. We are hoping this will be the only time, but we will plan to change our drop off and pick up procedures, and our last day program will largely be with campers only. More details to follow in other emails.
3. We still have a few spots available for children to register! Please pass along this link to your friends/family who may be interested. The full link is here as well:
https://www.tickettailor.com/events/tncamp/668128?mc_cid=997e623be2&mc_eid=995ede4f6c
We'll be in touch soon with more camp information in the next few weeks. In the meanwhile, please enjoy those last few days of school! We look forward to seeing you this summer!
ਵਾਹਿਗੁਰੂ ਜੀ ਕਾ ਖ਼ਾਲਸਾ ਵਾਹਿਗੁਰੂ ਜੀ ਕੀ ਫ਼ਤਹਿ॥

UPDATE #2 (6/5/22)
ਵਾਹਿਗੁਰੂ ਜੀ ਕਾ ਖ਼ਾਲਸਾ ਵਾਹਿਗੁਰੂ ਜੀ ਕੀ ਫ਼ਤਹਿ॥
Camp is less than a month away, and we are busy preparing to ensure a week of both fun and learning among sangat! In addition to all the fun and learning, we have to some Covid protocols listed below.
Prior to arrival at Camp
Every camper and volunteer must upload one of the following (an online form will be provided as we get closer to camp):
A negative PCR or NAAT test within 72 hours of arrival at camp.

These are currently being given at no cost via large pharmacies.  Please reach out if you have questions.
We will not accept home test results.

Proof of Covid-19 infection within the last 90 days (but greater than 10 days before camp)
Drop off at Camp
We will only be allowing parents/guardians to exit their vehicles  to assist in moving a camper's belongings to a specified drop off point (outside).
Parents/Guardians will not be allowed to enter the dorms or kitchen. We will have volunteers available to help your children get situated inside their dorm.
There will be an outdoor pavilion area for parents/guardians to get tea/water/snacks before they return home. There will also be one designated restroom for parents/guardians to use during drop-off.
Testing
If your camper shows symptoms, they will be given a Covid-19 rapid test. If your child tests positive for Covid-19, we have a room available for quarantine, but will need you to come to the campsite to pick up your child within 24 hours.
We are certainly planning for a safe week and hope the precautions we are taking will prevent any COVID outbreaks from happening, but as we have seen from the past 2 years, it is difficult to predict all possible scenarios. Please understand we are attempting to do everything we can to ensure a safe environment and a successful experience for your child(ren).

Please let us know if you have any questions or concerns.

ਵਾਹਿਗੁਰੂ ਜੀ ਕਾ ਖ਼ਾਲਸਾ ਵਾਹਿਗੁਰੂ ਜੀ ਕੀ ਫ਼ਤਹਿ॥

UPDATE #3 (6/8/22)
ਵਾਹਿਗੁਰੂ ਜੀ ਕਾ ਖ਼ਾਲਸਾ ਵਾਹਿਗੁਰੂ ਜੀ ਕੀ ਫ਼ਤਹਿ॥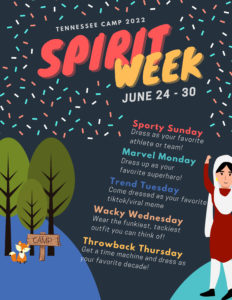 Camp is only 18 days away, can you believe it?! We can't wait to see all of you very soon!! We've missed you all and are so very excited to be in-person at camp this year.
In celebration for us returning back to our beloved camp tradition, we are doing a SPIRIT WEEK!!!
Have a superhero you admire? Dress up like them on Marvel Monday! (This doesn't have to be specific to Marvel, use your imagination!) Got a crazy outfit you want to try? Show it off on Wacky Wednesday!! We are excited to see all the creative outfits you come up with!
Everyone is encouraged to have fun and bring their wackiest, on-theme clothes during camp!!!
See our Spirit Week line-up below. Email us if you have questions or concerns.

ਵਾਹਿਗੁਰੂ ਜੀ ਕਾ ਖ਼ਾਲਸਾ ਵਾਹਿਗੁਰੂ ਜੀ ਕੀ ਫ਼ਤਹਿ॥
UPDATE #4 (6/11/22)
ਵਾਹਿਗੁਰੂ ਜੀ ਕਾ ਖ਼ਾਲਸਾ ਵਾਹਿਗੁਰੂ ਜੀ ਕੀ ਫ਼ਤਹਿ॥
Packing, Schedule & More …
Below is some advice from one of our Sevaadhaars, Madhu Kaur. She's been coming to camp since it started (1990) and now has two campers, ages 12 & 10.
We are 2 weeks away from camp! We'd like to give you some information to help you pack, as well as give you some expectations of what your week at camp looks like. Whether you've come to Tennessee Gurmat Camp before, or whether it's your first time, given our 3-year hiatus, everyone needs a refresher.
What to Pack
Our website has a handy PACKING LIST to reference. We suggest you bring everything written on here, and not really anything more. LABEL EVERYTHING, esp that WATER BOTTLE. I pack my children's clothes in ziplock bags for each day. It takes out all of the guesswork of what to wear, and it saves a TON of time each night when getting ready for bed. Over the next 2 weeks, please practice with your camper so that they're comfortable with managing their own things. Everyone ages 8 and up can do this!
Helpful hint: Your suitcase should fit underneath a bed, so plan accordingly. Sometimes a duffle bag is easier, esp for smaller kids. Morning is often slightly chilly, as is the Divaan hall. Don't forget a light jacket.
Also, please do not forget to bring a harmonium/tabla. The only exceptions are if you are flying or do not currently own one.
Daily Schedule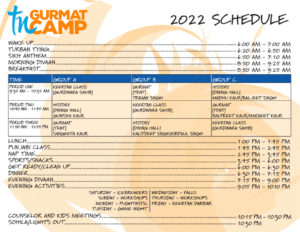 The day consists of waking up around 6am. After morning Divaan, we move on to our classes (Keertan, History, Gurmat, and Punjabi). In the afternoon, we have a short rest/nap time, followed by free time. In the evening, Divaan occurs again, usually followed by a learning activity. There are 3 full meals and 2 snack periods. The day finishes around 9-10pm. Yes, it's long, but we only get a week with each other, so we try to make the most of it. (you can click on image to enlarge)

Cell Phones
For the most part, we do not have cell service on the campground. If you send your child with a phone, they likely will not be able to reach you. There is a pay phone, and instructions on how/when to call are on our FAQ page on our website.
Keep an eye out for more updates and we'll see you soon!!!
Happy summer!
ਵਾਹਿਗੁਰੂ ਜੀ ਕਾ ਖ਼ਾਲਸਾ ਵਾਹਿਗੁਰੂ ਜੀ ਕੀ ਫ਼ਤਹਿ॥
UPDATE #5 (6/15/22)
We're in planning mode
As we get closer to the start of TN Camp, our planning is in full swing. Groceries, classes, evening activities are almost set and we are eagerly awaiting our time together.
Flight Info
With the campsite being two hours away from a large airport, planning pickups and drop offs from the airport is always challenging.
That being said, we need your help. Please send us your flight information no later than Saturday, June 18th. After that date we can not guarantee a ride for you.
REMINDER: Volunteers, we can only arrange rides for campers traveling by themselves. If you have any questions, please reach out to info@tncamp.org
Keep Camp Safe
We know travel restrictions recently changed and masks are no longer mandatory on flights but we humbly request you please travel as safely as possibly AND wear a mask.. Please think about your fellow Sangat members coming to camp as you travel, whether it's by plane or car.
Volunteers …
… your help is needed before you arrive to the campsite. If you are flying in and have room in your vehicle to bring a camper(s) please enter it in the google form.
UPDATE #6 (6/16/22)
TN Camp 2022 Campers!
Camp begins next week and we are so excited to see you all again. As you pack for camp and start feeling the camp feels, we wanted to introduce this year's Theme Shabad.
Every year, the Theme Shabad brings everyone together in Divaan and Classes. As the days go by, we will be reflecting and learning through this Shabad. It is always a special experience hearing campers singing this shabad throughout the day; it gets stuck in everyone's heads and we can't help but hum it occasionally!
This year's Theme Shabad is a classic:
ਮਃ ੪ ॥ਗੁਰ ਸਤਿਗੁਰ ਕਾ ਜੋ ਸਿਖੁ ਅਖਾਏ ਸੁ ਭਲਕੇ ਉਠਿ ਹਰਿ ਨਾਮੁ ਧਿਆਵੈ ॥
Gur Satigur Ka Jo Sikh Akhaa-ay So Palkay Utth Har Naam Dhiaavai.
A salok written by Guru Ram Das Ji, this shabad is a loving description of the lifestyle & daily practice of a Sikh of the Guru. Together, we will explore what this practice is and learn what it takes from us to embody it in our daily lives.
We encourage you to listen ahead of time to this Shabad and become familiar with the words. If you feel like attempting the Shabad, feel free to start learning the tune now by clicking on this link.
@LearnKirtan
The video tutorial that includes the tune and notations for this Shabad was thoughtfully made by our friends at the @LearnKirtan channel. For those who are interested in learning Kirtan, feel free to visit the channel to explore more tutorials. You can access the link for our camp theme Shabad here.
UPDATE #7 (6/21/22)
TN Camp 2022 Campers!
We've got some random, but all very important, notes for you today.
ARE YOU FLYING TO CAMP BY YOURSELF?
If you/your child is a camper and is flying alone, we can pick them up from the Nashville airport but WE NEED THEIR FLIGHT INFORMATION.
Fill out the TN22 flight information form immediately. If we do not have your forms by 6/22, we will be unable to arrange a ride to/from camp.
Vaajaa Vaajaa Vaajaa
Please bring your instruments to camp. Every child will learn at least one Shabad, and if we don't have enough vaajaas, class can be pretty painful. If you are flying, you don't need to bring one. If you are driving and have access to a harmonium or keyboard, please bring it with you. We will be very careful with your instruments all week.
Notebook
Please get your 3-ring binder/notebook ready for camp. If possible, it should have 4 sections (Keertan, Sikh History, Gurmat, and Punjabi). Make sure you bring lined paper and several pens/pencils with you as well.
Water Bottles
It's going to a be a hot week at camp. Please pack a reusable/labelled water bottle.
Spirit Week
Don't forget about Spirit Week dress-up! If you want to participate don't forget to pack your super cool and trendy outfits!
Be prepared …
We will be sending another email about Covid-19 PCR and NAAT testing procedures and expectations.
ਵਾਹਿਗੁਰੂ ਜੀ ਕਾ ਖ਼ਾਲਸਾ ਵਾਹਿਗੁਰੂ ਜੀ ਕੀ ਫ਼ਤਹਿ॥
UPDATE #8 (6/22/22)
Parents this one is for you:
We're 72 hours away from camp, which means we are within the window to complete PCR/NAAT testing*. Please recall that all campers and volunteers are required to upload this negative PCR (or NAAT) test to be able to attend camp. You may schedule free testing at most major pharmacies, such as Walgreens or CVS.
Upload your test results here!
You can upload up to 5 results at once.
If you tested positive for COVID-19 in the last 90 days (and not after 6/14/2022), please submit confirmation of your positive test to the same link. You are then not required to undergo PCR testing. Please email info@tncamp.org with any questions.
We know these protocols feel tiresome, but we are doing our best to keep everyone safe during our week in the mountains. We have sevadaars and children of all ages in attendance, so we want to keep each other healthy. When traveling, please be sure to wear your mask, this is
*We cannot accept home/antigen tests. The test must be either PCR or NAAT.
SATURDAY, JUNE 25 (First day of camp)
Please arrive at the campsite between 2:30 PM and 4:00 PM. We strongly suggest you download Google Maps offline or print out directions ahead of time. Campers will register outside. Unlike in previous years, parents/guardians will not be allowed in the dorms. We will have volunteers available to set up their bunks. There will be an outdoor tent for parents/guardians to get tea/water/snacks before they return home. All adults not staying for the week should depart by 4:30PM. We will promptly begin camp at 5:00PM.
DURING THE WEEK
Parents not volunteering for the week are not able to drop in at the campsite at any time. If you wish to call your child, please call (423) 881-5747 during meal times (8:50am – 9:25am, 12:45pm – 1:30pm, and 6:15pm – 7:00pm). Please send a calling card with your child if they wish to call home. Cell phones are only allowed during meal times and sports time, but phone service is typically poor everywhere there.
SATURDAY, JULY 2 (Last day of camp)
We traditionally have a final day program where the campers receive awards and show their parents the keertan they have learned during the week. Unfortunately this year, in order to keep everyone healthy, families are not invited to join us for the final day program. Parents, pick up for your children is between 12:00 PM and 1:00 PM.
Parents will also not be permitted in the dorms that day. Counselors will help children pack all of their belongings the night before. In the morning we will move the luggage to a central area outside where children can meet their parents.
We understand that camp looks a little different this year. After an unprecedented three year hiatus, we hope that these protocols make everyone feel safe. We thank you for trusting your children to us for the week and cannot WAIT to spend time with them. Thank you for understanding and being compliant with these protocols.
Please upload your PCR results from today/Thursday/Friday by filling out the:
TN Camp 2022 COVID PCR Test Results.
See you on Saturday!
P.S. Label EVERYTHING! Send your child with a list of everything they've packed to make repacking next Friday night easier!
P.P.S. Don't forget your Vaajaas & Tablas 🙂